Stephanie Dulgarian is a mother of five and founder and creative director of the lifestyle blog Somewhat Simple. She has dedicated her considerable blogging and momming skills to helping other moms simplify their daily routines and lives with time-saving tips, recipes, and other family-life tricks! Recently, this blogging supermom took on a new DIY challenge: decorating her mother's new apartment.
Finding your unique style is difficult enough without the added complications of fitting your vision to a smaller area, as Stephanie discovered during her endeavor to turn her mother's new space into a cozy but uncrowded home. Luckily, Stephanie's wealth of tips and tricks allowed her to work from the ground up and furnish a beautiful apartment for her mother's new life!
Read on to learn the tips and tricks that allowed her to accomplish this achievement in small space decorating, and find the pieces she used here:


Small Spaces || Apartment Decorating Ideas
(Excerpt from original on Somewhat Simple)
A small space doesn't have to be cramped and crowded! Even the smallest apartments can be cozy, inviting and functional with these 10 apartment decorating tips andf tricks!
We've partnered with our friends at American Furniture Warehouse for the main pieces of furniture for this space, as well as some accent accessories too. Take a look at (my mom's) new living room and patio: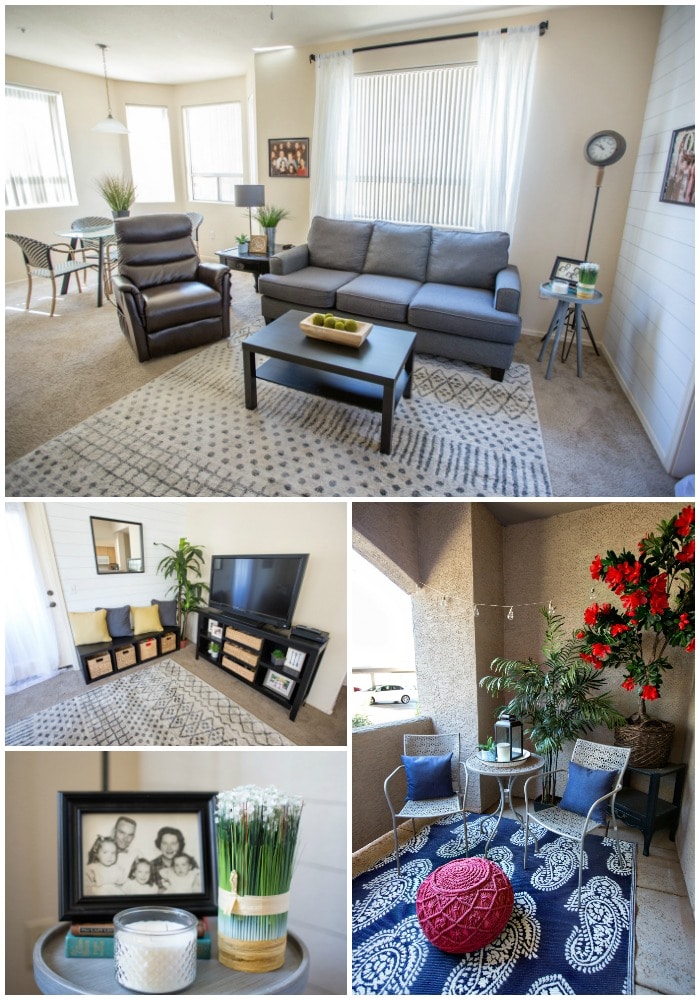 Doesn't it look amazing?!
We were able to do her entire family room, her dining room, and her small patio.
Up until now, all the furniture she had was donated by friends and family. But with a couple quick trips to American Furniture Warehouse, all of that was about to change! (Not only do I love having this giant furniture store close to my home, I just have to say how friendly the staff always is, the prices are totally affordable, and the product selection is AMAZING!)